This email was sent to you by WineRelease.com. To ensure delivery to your inbox (not bulk or junk folders), please add "nmonnens@WineRelease.com" to your address book or safe list.
Having difficulty viewing this email? View it here.




WineRelease.com's April 15, 2009 Monthly Newsletter. (a day early)


Greetings from WineRelease.com, now 1,319 winery listings strong!

My wife and I fly to Spain tonight so the newsletter is a day early. Next month will be published from Spain.

Over 500 subscribers participated in our subscriber survey. Below are the results (Some responses do not add up to 100% as some skipped questions). For raw results in .pdf format click here

1. Is your monthly wine budget;
Increasing: 2%
Decreasing: 68%
Staying the same: 31%

Not surprising that 68% are spending less on wine given our tough economy.

2. How has your wine buying, per bottle, changed.
Buying more expensive wine: 5%
No changes in my wine buying: 50%
Buying less expensive wine: 31%

Half are not changing the price they pay for wine, but 31% are buying less expensive wine.

3. In the past month, what is the average price you paid per 750ml bottle of wine?
Less than $10: 6%
$11 to $19: 28%
$20 to $29: 23%
$30 to $39: 14%
$40 to $49: 10%
$50 to $75: 10%
$76 to $100: 6%
$100 to $150: 2%
Over $150: 2%

The bulk of the wine being purchased (51%) is in the $11 to $29 price range.

4. How many cases of wine have you purchase in the last 12 months (Estimate)?
Less than a case 2%
1 to 5 cases: 20%
6 to 10 cases: 31%
11 to 20 cases: 26%
21 to 50 cases: 17%
51 to 100 cases: 2%
101 to 200 cases: 1%
More than 200 cases: 1%

The majority (57%) purchased 6 to 20 cases in the last 12 months.

5. How many cases of wine have you purchased in the last month?
No wine: 7%
Less than 1: 25%
1 to 2: 37%
2 to 3: 16%
3 to 4: 7%
More than 4: 8%

The majority (62%) purchased 1 bottle to 2 cases of wine in the last month.

6. How many cases of wine do you currently own?
Less than a case 3%
1 to 5 cases: 11%
6 to 10 cases: 11%
11 to 20 cases: 12%
21 to 50 cases: 26%
51 to 100 cases: 14%
101 to 200 cases: 10%
More than 200 cases: 13%

Subscriber cellars are pretty even across the board here.

7. How many wineries have you first heard of on WineRelease.com?
0: 22%
1-3: 17%
4-6: 23%
7-12: 14%
13-20: 7%
More than 20: 17%

Numbers here are also across the board.

8. Of those wineries you found out first on WineRelease.com, how many wineries have you purchased wine from?
0 45%
1-3: 35%
4-6: 13%
7-12: 4%
13-20: 2%
More than 20: 2%

More than half purchased from 1-12 wineries after discovering on WineRelease.com.

9. Wineries, retailers or others offer wine clubs that send members wine on a regular basis. How many wine clubs do you belong to?
0: 40%
1-3: 35%
4-6: 16%
7-10: 5%
More than 10: 6%

Over half (52%) belong to 1-6 wine clubs.

10. Do wine critic scores influence your wine buying?
Yes: 77%
No: 23%

A full 77% listen to the wine critics.

11. 2. How much confidence do you place in the following wine review sources? (choose n/a if you have no opinion)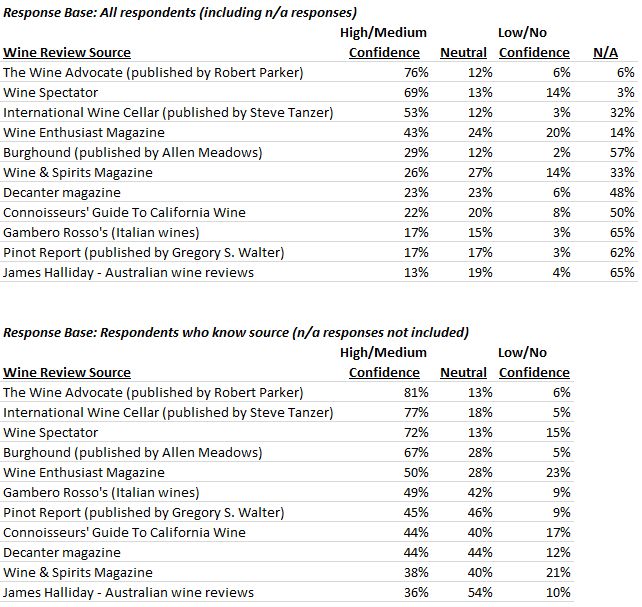 Both Wine Advocate and Wine Spectator have high awareness (94% and 97% respectively) but Wine Advocate the clear leader followed by International Wine Cellar, Wine Spectator and Burghound. On the lower chart, which lists sources based on people who are aware of the sources, Wine Enthusiast and Wine & Spirits have low confidence levels (23% and 21% respectively).

12. Which publications do you subscribe to or read on a regular basis?
Wine Spectator: 84%
The Wine Advocate (published by Robert Parker): 54%
Wine Enthusiast Magazine: 38%
International Wine Cellar (published by Steve Tanzer): 22%
Wine & Spirits Magazine: 21%
Decanter magazine: 15%
Connoisseurs' Guide To California Wine: 10%
Burghound (published by Allen Meadows): 9%
Pinot Report (published by Gregory S. Walter): 9%
WineBlueBook (formerly QPRwines): 8%
Gambero Rosso's (Italian wines): 7%
James Halliday - Australian wine reviews: 4%

The Wine Spectator has the highest subscriber rate at 84% followed by Wine Advocate at 54%.

13. Have you heard of WineBlueBook?
Yes, and I am a subscriber: 6%
Yes, but I do not subscribe: 27%
No, I don't know WineBlueBook: 68%

This is surprising and embarrassing for me since WineBlueBook is our sister publication. WineBlueBook lists wines by the wine critic scores then sorts by price showing how good, or bad, the value. WineBlueBook also shows you the price you should pay and the wines availability. For the 68% of you who don't know WineBlueBook (and 27% of you who do but don't subscribe), we are offering a discount on WineBlueBook subscriptions thru next week. For a mere $19.98 a year (saving from the $60 yearly cover rate) you will get 12 issues of WineBlueBook sent to you via email Click here.


And now, on to the show...



May 2009 Wine Releases

WineRelease.com's Winery Newsletters and Mailing Lists Sign Up Page: Click here.

The following 9 winery information pages have been updated since March 15, 2009:


Clicking on the above advertisement will open another browser window.


..........................................................................
A B O U T : This is the monthly Email published on the 15th of every month by WineRelease.com listing wine releases for the next month. Your privacy is safe. Your email will never be sold, rented or bartered to anyone without your consent.
..........................................................................
C O P Y R I G H T : We welcome and appreciate forwarding WineRelease publications in their entirety or in part with proper attribution: Source: 2007 WineRelease.com http://www.WineRelease.com
..........................................................................
L E G A L N O T I C E S : While WineRelease.com used its best efforts in collecting and preparing the information published herein, WineRelease.com does not assume, and hereby disclaims, any liability for any loss or damage caused by errors or omissions, whether such errors or omissions resulted from negligence, accident or other causes.
..........................................................................
S U B S C R I P T I O N S : WineRelease.com is published on the 15th of the month. Subscriptions are free and sign-up is easy, send an Email to addmnews@winerelease.com.
..........................................................................
A R C H I V E S : Past wine release information can be found here: http://www.winerelease.com/Past_Releases/Previous_dates.html.
Past newsletters can be found here: http://www.winerelease.com/Past_Newsletters/Previous_newsletters.html
..........................................................................
U N S U B S C R I B E : This message has been sent to you because you signed up to receive it. If you no longer wish to receive this monthly Email, reply with the word "REMOVE" in the subject and you will be promptly removed from our mailing list. Alternatively you can write:
WineRelease.com
1592 Union St. #232
San Francisco, CA 94123
..........................................................................